לכל המשפחה בחופשת פסח - 18 באפריל - 25 באפריל 2016 שבוע של כיף בהמבורג וסביבתה החל מ 1149 יורו לאדם




For the whole family during the Pessach season - 18 April - 25 April 2016
A week of fun in and around Hamburg from EUR 1149 per person !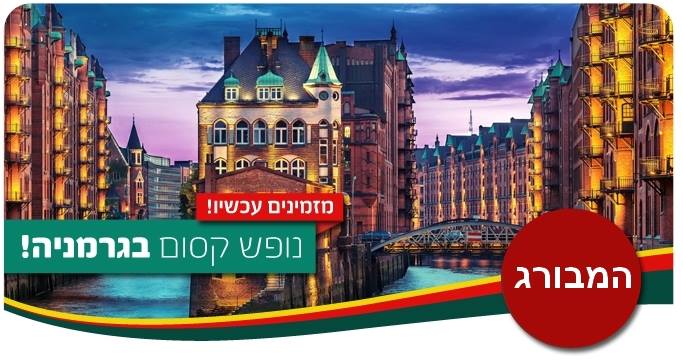 טיסות ישירות הלוך ושוב עם חברת התעופה גרמניה מתל אביב להמבורג

השכרת רכב בשדה התעופה למשך 7 ימים והחזרה בשדה התעופה

שבעה לילות במלון מדרגת תיירות טובה במרכז המבורג,על בסיס לינה וארוחת בוקר.

המחירים אינם כללים העברות ועשויים להשתנות בהתאם לזמינות






Direct flights with Germania Airlines from Tel Aviv to Hamburg and return

Rent-a-Car at Fuhlsbuettel Airport upon arrival for 7 days and drop off prior to departure

7 nights in good tourist standard hotels in the center of Hamburg based on double room incl breakfast


Visit the main attractions Hamburg has to offer – Hagenbeck Zoo – Planten and Blomen botanic gardens – musuems – the Harbor – Alster and Jungfernstieg – the city center with its many shopping opportunities – the municipality.
Day trips to Luebeck and Soltau Heidepark with its many fun attractions, the Serengeti wild-life park or the world-bird-park .


subject to availibilty - changes possible without prior notice, unless payment has been received.
Transfer fees are not included



סוף שבוע ארוך בהמבורג מיום חמישי עד יום שני
24 מרס - 28 מרס 2016

טיסות ישירות הלוך ושוב עם חברת התעופה גרמניה איירליינס מתל אביב להמבורג - 4 לילות במלונות בדרגה תיירותי טובה , על בסיס מיטה וארוחת בוקר החל מ 699 יורו לאדם



המחירים אינם כללים העברות ועשויים להשתנות בהתאם לזמינות
Long Weekend in Hamburg from Thursday to Monday
24 Mar - 28 Mar 2016



Direct flights with Germania Airlines from Tel Aviv to Hamburg - 4 nights hotel

from EUR 699 per person in good tourist standard Hotels based on double occupancy, bed & breakfast
subject to availibilty - changes possible without prior notice, unless payment has been received. Transfer fees are not included